Orthodontics is the branch of dentistry that specialises in the diagnosis, prevention and treatment of dental and facial irregularities. Orthodontic treatment involves the use of corrective appliances to bring the teeth and jaws into proper alignment.
---
What is an orthodontist?
An orthodontist is a dentist who has become a registered specialist in orthodontics.
In Australia, an orthodontist must:
Complete a 5 year full time Bachelor degree in dentistry
Minimum of 2 years general dental experience
Complete a 3 year, full time Masters degree in orthodontics
Be registered as a specialist in orthodontics by the Dental Board of Australia
An orthodontist has been specifically trained, and is the most qualified in the diagnosis, prevention and treatment of problems associated with the alignment of the teeth and jaws.
---
At what age should your child see an orthodontist?
It is recommended by the Australian Society of Orthodontists that a child be assessed by an orthodontist as the adult front teeth erupt. This is usually around age of 7.
---
Treatment for Children
Early examination allows the orthodontist to detect and evaluate problems and plan appropriate treatment.
Early treatment may prevent more serious problems from developing and/or make treatment at a later age shorter and less complicated. Early treatment may also achieve results that are not possible once the face and jaws have stopped growing.
---
Treatment for Adults
Successful orthodontic treatment can be performed at any age. At Doncaster Orthodontics we offer various aesthetic options including ceramic braces and Invisalign clear aligners.
---
Appliances
Braces - Consists of the following parts:
Brackets: These are metal or clear attachments which are bonded or 'stuck' on to the teeth. Brackets can be considered the 'handles' of the braces, to which the wires attach. At Doncaster Orthodontics, we use self-ligating, friction-free brackets that are at the cutting edge of orthodontic technology.
Wires: The arch wires are attached onto the brackets. At the beginning of treatment, gentle pressure from the arch wires commences the alignment process. As treatment progresses, the arch wires become thicker and stronger.
Rubber bands: Most patients will wear rubber bands at some time during their treatment. Rubber bands place forces on specific teeth and the jaws to move them into an ideal position. It is important that the rubber bands are worn as instructed to ensure a beautiful result.
Bands: These are metal rings that are placed around the back molars. They provide support for the wires.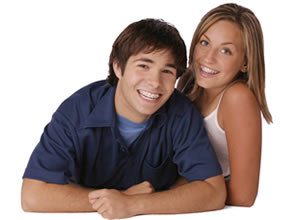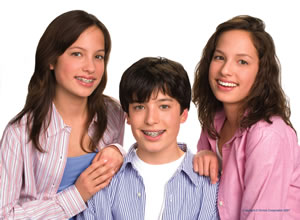 ---
Invisalign
Invisalign is the nearly invisible way to straighten teeth using a series of custom-made, nearly undetectable aligners.
The fact that the aligners are removable means that you can easily maintain good oral hygiene and there is no impact on what you can eat and drink. Invisalign aligners are also more comfortable than traditional braces.
To find out if you are suitable for Invisalign treatment, make an appointment with one of our orthodontists. You can also visit the Invisalign website for more information.